Munditenens Tresplet
Munditenens Tresplet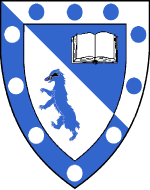 Arms of Munditenens Tresplet
Citizenship Date: 9 January 2012
View Database Entry
Munditenens (Dien) Tresplet (b. 22 September 1994) is a Talossan citizen from the province of Maricopa. Tresplet became a citizen on 9 January 2012 and became involved in political affairs, serving in the Cosa. He was appointed Royal Governor of Talossa's Antarctic Territory on 8 July 2012.
Politics
Politically, he initially was a member of the RUMP, but switched to the newly created Liberal Congress in 2014, shortly after winning election to the Senate. He then followed his party into the Free Democrats after its formation in 2015. He served in Cabinet as Interior Minister and Finance Minister, and is one of just two people to have presided over both the Cosa (as Tuischac'h) and the Senate (as Mençei).
Tresplet is known as a libertarian and a monarchist, and heads the Royal Caucus in the Free Democrats.
Culture and journalism
Tresplet is the founder and Editor-In-Chief of The Péngöpäts Times, which he founded on 30 July 2013/XXXIV. In recent years, he has hosted through PengoTimes a number of live events focusing on politics (Election Night and Balloting Day events, swearing-in of Miestrâ Schivâ) and on the Talossan Music Top 20 contests.
Tresplet has served as National Gamemaster for many years.
Preceded by
Eugene Oh
Royal Governor of Péngöpäts
8 July 2012/XXXIII - Present
Succeeded by
Incumbent
Preceded by
Post Created
Deputy of Scribery of Abbavilla
unknown - 17 Feb 2017/XXXVIII
Succeeded by
Post Abolished