Ián von Metáiriâ
Jump to navigation
Jump to search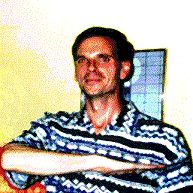 Ian Ursümvür von Metairia (John Jahn, commonly referred to as "JJ", b. 14 April 1963) is a former citizen of Talossa.
A childhood friend of Talossa's founder, von Metairia became the eighth citizen of Talossa in April of 1983. He founded the TNP, and wrote the history of that party in the book Onward! Upward! Forward!.
He was the first Seneschal of the Kingdom, serving three times in that office. He spent over eight years at the post of Secretary of State, with only a few months between his two lengthy terms in that office. He also served as Senior Justice of the Uppermost Court.
Von Metairia was instrumental in the provincial affairs of his home province of Maritiimi-Maxhestic. His fondness for Prussian and German traditions and heritage led to the unique culture of the province.
Von Metairia is a member of three of the four Orders of Knighthood and was elevated to the peerage on 23 November 2006, becoming the Duke of Maritiimi-Maxhestic.
For many years following the abdication of Robert I, von Metairia continued his high level of activity in the Kingdom, but eventually chose to allow his citizenship to lapse.
Offices