John
Jump to navigation
Jump to search
John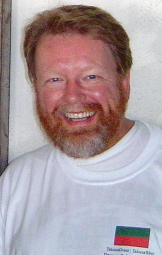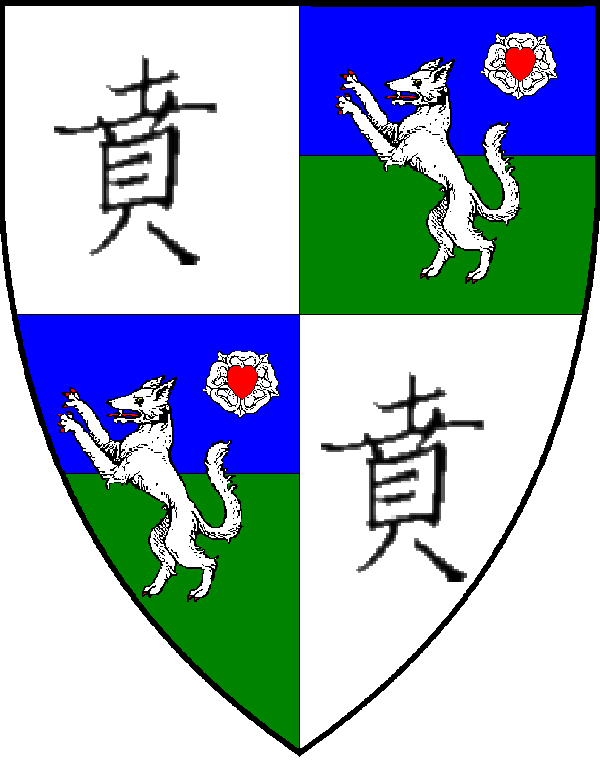 Royal arms of John
Reign: 14 March 2007/XXVIII – present
Heir Presumptive: None
House: House of Lupul
---
Predecessor: Louis
(with a Council of Regency intervening)
Successor:
incumbent

John (John W. Woolley, b. 12 October 1954, New York, New York, USA) of the House of Lupul is the reigning King of Talossa. The official title of the King is John by the Grace of God, King of Talossa and of all its Realms and Regions, King of Cézembre, Sovereign Lord and Protector of Péngöpäts and the New Falklands, Defender of the Faith, Leader of the Armed Forces, Viceroy of Hoxha and Vicar of Atatürk. His official Talossan name is Ian Lupul.
Talossan Life
Before the Throne
King John has been a Talossan citizen since 7 May 2005. He discovered Talossa through random Internet surfing and, a student of constitutional theory and of the history of Great Britain and its monarchy, was attracted by the monarchy and the parliamentary government in place.
He affiliated with the Conservative Loyalist Party and was vocal in his criticism of the words and actions of King Robert I, protesting vehemently against the behaviour of the King toward his subjects, and the overtly partisan participation of the King in the political life of the nation. John insisted that the CLP resist a royal demand that a list of those citizens who were considered to be CLP party members ("Clippers") be published, which was called not only a breach of party rights, but a political tactic meant to ensure that the King's Black Hand (MN) party could outpoll it in the next election by whatever means.
The abdication of King Robert I was finally precipitated by John's protest that the MN's claim to promote the learning of the Talossan language was seemingly insincere given restrictions imposed by the MN's leadership concerning availability of learning material.
When King Robert I abdicated, the throne passed to his adopted heir Louis.
Because Robert I also held the post of Secretary of State at the time of his absence, his renunciation of Talossan citizenship left the office vacant, and with Prime Minister Cantalour also renouncing his citizenship, the Uppermost Court instructed Distain Xhorxh Asmour to act as Seneschal and appoint a new Secretary of State so that elections to the 35th Cosa could proceed. When the Distain failed to act by the court-appointed deadline, the Court, in its capacity as Council of Regency for the throne, appointed Fritz von Buchholtz as Seneschal, and the new Prime Minister appointed John to the post of Secretary of State. There he served as what has been widely pronounced as one of the most able of Secretaries of State, updating the Clark and its distribution methods, and scrupulously attending to the duties of his office, until his elevation to the throne.
When Talossan citizen Wes Erni, acting at the behest of former King Robert I, brought suit in the Uppermost Court to press Robert's claims that the Talossan citizenship roll had been illegally filled with false names to suit the leadership of the CLP in its pursuit of power over Robert's MN party, John defended the government (Erni v. Talossa). In a decision handed down by Senior Justice Danihel Laurieir, the government's position was upheld and the citizenship rolls remained unaffected.
In addition to his duties as Secretary of State, John served during the Regency of King Louis as a Senator for his home province of Florencia, Chancellor of the Royal Talossan Bar, and inaugural holder of the position of Blanc Wolf Herald in the Royal College of Arms. John was knighted into the coveted Order of the Nation by the Regent for King Louis on 30 November 2005.
During the reign of Louis, John authored a great many pieces of legislation and shepherded them through the Ziu. These range from the creation of the Office of Private Adventurers to modifications to Organic Law that restricted the powers of the monarch, including forbidding the Sovereign and his consort from holding political or appointed offices, removal of the partial veto from the royal powers, the addition of a requirement that the Sovereign hold and maintain Talossan citizenship, and many other modifications, all ratified by the people and incorporated into Organic Law.
Ascension to the Throne
At the express request of King Louis's biological mother, the Ziu, acting as legal guardian for the minor King, abdicated the throne on his behalf. Thereupon, the House of Rouergue was exhausted, having no other members eligible to the throne. In such circumstances, the Organic Law calls for a national election to determine a new King and royal family. A debate ensued over whether this mechanism should be employed immediately, or after some delay. Some citizens felt that the nation should wait to see if Robert I would choose to return to the Kingdom, accept the new restrictions on royal power, and be re-enthroned. Others felt that while an election was warranted, an Old Growth candidate would need to be identified, and no such citizens were willing to assume the throne, so the throne should lay vacant until such time as such a candidate could appear.
The Ziu agreed to accept nominations to present to the citizenry during the elections to the 37th Cosa. Baron Hooligan and others presented John's name on 4 December 2006, and John replied after a day's shock and thought, saying:
When I first saw this Bill — and may I express my *astonishment* that none of you conspirators tipped me off this was happening? — I thought I'd just post something short like "Uh-oh" or "You have *got* to be kidding" or "You'll get yours, Hooligan", and let it go. A few hours further thought, though, makes me think the Nation deserves a better (or at least a longer) response.

Elections are inherently political, and they should be. On the other hand, and as I used to tell King Robert (to little effect), the King of Talossa should be scrupulously non-political, never favouring one party over another, never interfering with or even criticizing the elected Government (except in genuine emergencies), entirely "above the fray". (Heck, I don't think the King should even vote, except "present".) It therefore amounts to a contradiction for a Talossan to campaign to be King — and I will not do so.

My principle, as a Talossan public servant, has always been this — that whoever is (or becomes) King or Queen of Talossa, I will serve the King or Queen (and the Talossan people) faithfully in whatever offices I'm called or elected or appointed to. I serve the Crown; I do not covet it, nor would I encourage my friends to covet it on my behalf. But if you, the Talossan people, think that I'm the right person for this wonderful office — well, who am I to contradict your judgement? If you elect me, I will follow that same principle, and will serve the Crown and the Nation faithfully and to the very best of my ability.

...

I am humbled, and a bit amazed, at the fact that a number of you apparently want me to be King of Talossa. I really love Talossa, but I've been a Talossan for less than two years, and I would have expected that we'd choose a citizen of longer experience to be King. Still, if you elect me, I'll do the job, I'll be happy to do it, and I'll really try to do it well.
In the same message to the nation, John, who was serving as Secretary of State, indicated that he would turn the conduct of the election over to his Deputy, Mick Preston, and that, should he be elected, he would promptly resign all offices. In the nationwide referendum that commenced on 15 February 2007, a month before the start of General elections to the 37th Cosa. John was ratified as the choice of the nation. He assumed the throne when the results of the referendum were certified on 14 March 2007 by the Deputy (and subsequently Acting) Secretary of State. John immediately resigned his offices to accept the throne and his first acts included the naming of his Privy Council.
King
Since taking the throne, John has scrupulously avoided all political entanglement. To fill the time that had been taken by his former involvement in politics, the King turned his attention to some of his personal hobbies, including study of the Talossan language, being instrumental as a member of the Commitee for the Use of the Talossan Language before taking the throne (and as patron of the Committee thereafter) in the study of the language that led to reforms in orthography recognised by the Committee in 2007.
The King attends to the few duties of his office, assenting to or vetoing acts of the Ziu, granting achievements of arms, and appointing members of the government and the royal offices as and whenever he is directed to do. He delivers an annual Speech from the Throne on Independence Day and typically issues a public speech during TalossaFest.
He is visible around the nation's social sites, posting humorous or wry observations, sharing the joys and the burdens of his subjects with empathy and sympathy, and when needed, has been known to diplomatically request temperance of heated conversations, in the interests of ensuring that all his subjects are comfortable within the community.
The King was one of three members (along with Seneschal Litz Cjantscheir and Distain Hooligan) to serve on the Commission of the Kingdom during discussions with the Talossan Republic that commenced in December of 2010 and led to Reunision.
Personal Life
Ancestry
King John is the only son of Richard Park Woolley (b. 15 February 1925, third son of Cloyd Forsythe Woolley and Florence Tarbet, d. 4 August 2008) of Denver, Colorado and Martha Jeanne Macy (b. 17 June 1930, only child of Warren Earl Macy and Eulalia Sophia Mahanna, d. 5 February 2009) of Pueblo, Colorado, married 13 June 1953 and removed to Boulder, Colorado. John has two sisters, Beth (b. 30 September 1957, m1 Randall Smith, m2 Richard Schuh) of Colorado Springs, Colorado; and Jane (b. 3 July 1960, m. Andrew Tuttle) of Colorado Springs, Colorado.
King John's father's family, being prominent in the U.S. State of Utah, has been traced rather completely back to the early 19th century in Ireland, Wales, England, and the Isle of Man, and (in certain narrow lines) to much earlier dates. (There appears to be no evidence, however, connecting this family with any of the armigerous Woolley families of England.) His mother's grandparents were all Americans of predominantly Irish descent (Macy, Mahanna, O'Brien) settled in Nebraska.
Family and Career
John was educated at Boulder High School (Boulder, Colorado) and the University of Colorado (B.A., mathematics), and is currently finishing work for an M.A. in Orthodox Theology through a distance learning program of the University of Balamand in Lebanon.
John is a software developer by profession, but has held such varied jobs as delivering telegrams for Western Union, a college telephone switchboard operator, and a Denver cab driver. He resides in Centennial, Colorado, USA, and works for a local company building software for On-Line Banking applications.
He was married on 23 August 1975 to (Karen) Kristine Moulton. King John and his consort the (non-Talossan) Queen Kristine are half-fourth-cousins, having a great-great-great-grandfather in common. Queen Kristine is a Physician Assistant at Kaiser Permanente in Denver, Colorado, USA. The King and Queen are the parents of:
Her Highness Princess Danielle Marie ("Nellie") Southwell (née Moulton), natural niece of John and Kristine, adopted by them in her childhood.
(Non-Talossan) Prince Andrew John Woolley (b. 23 November 1979), who married (also non-Talossan) Gelsey Rosanne Clare Overgard, who spent some of her teen years living with the Woolley family. Andrew is a Lieutenant Commander in the United States Navy and a nuclear engineer, currently serving as Navigator of the U. S. S. Makin Island, and residing (when ashore) in San Diego, California.
His Grace and Highness the Prince of Prospect, Patrick Richard ("Patch"), Duke of Florencia, an attorney in practice in Arlington, Virginia, who married (non-Talossan) Candace Archer.
(Non-Talossan) Prince James Daniel Woolley, who has applied for Talossan citizenship something like four times, and never followed through. He obviously has some of his father's laziness in him. James is a Captain in the United States Marine Corps, stationed at Camp Pendelton, California.
(Non-Talossan) His Highness Prince Peter George, a 1st Lieutenant in the United States Marine Corps, stationed at Camp Pendleton, California. Prince Peter is married to the (non-Talossan) former Katie Chrisp.
Princess Nellie has provided the King with two grandsons and a granddaughter, Prince Andrew with one grandson, and Prince Peter with one granddaughter.
The King currently owns two dogs, one of which, "Pup", a female shiba inu, is officially recognised by an act of the Ziu to be the National Dog (although even this bribe did not seem to be enough to get Prince James to embrace his latent Talossanity).
Interests and Beliefs
The King is a voracious reader, and a particular lover of Victorian literature and mid-20th-century crime fiction. He also enjoys science fiction, especially the works of Lois McMaster Bujold. He has an extensive collection of books, including a great many early paperbacks (especially "Gold Medals" from Fawcett), though now does much of his reading on a Kindle device. John is a proponent of the Oxfordian theory of Shakespearean authorship, maintaining that Edward de Vere, 17th Earl of Oxford, was the author of the works written as by William Shakespeare.
In 1991, John appeared on the U.S. television game show Jeopardy!. Going into Final Jeopardy! he had a sizeable lead, and with the category being The Pulitzer Prize, felt confident. However, while he could recite the Pulitzer Prize winners for all previous years, the question concerned those that had just been announced for 1991, and John was unaware that the award for fiction had gone to John Updike. It is advisable not to mention Mr Updike's name around the King.
John enjoys the television series Buffy, the Vampire Slayer and other works of writer-director Joss Whedon, especially Firefly.
John enjoys a number of games, from card games (such as Hearts and Toq, and he has been known to play poker, though admits that his sons have more talent for the game) to complex wargames including three-dimensional air battle simulations, which he played in his younger days. He enjoys the game of Diplomacy immensely, and is credited with Baron Hooligan with the creation of two substantial variants of the game, Payola Diplomacy and Crystal Ball Diplomacy.
Raised in the Anglican Catholic faith, the King served as a deacon in his Denver parish of that church for 25 years. In 2007 he converted to Orthodoxy, and was chrismated into the Antiochian Orthodox Church. On 1 July 2012, he was ordained an Orthodox Deacon during services in Wichita, Kansas, USA, saying of the experience:
It was really good. The ordination rite is pretty amazing. Through most of the (long) Sunday morning Divine Liturgy, I was just standing in front of the icon of Christ with a towel draped over my head, holding a pitcher and basin for (twice) washing the bishop's hands. The pitcher and basin started out reasonably light weight, but somehow got heavier in the course of the service, which made my back feel eventually like it was about to burst into flames or have an alien pop out of it; but neither thing happened. ... I haven't really assimilated the spiritual experience yet, but yes, I'm Deacon John Saturus.
John likes most bullions of Talossan currency, especially India Pale Ale and other strongly hopped brews, and is partial to barleywine. He also enjoys cider, gin, Scotch whiskey, and bourbon.
Offices