Gary Schwichtenberg
Jump to navigation
Jump to search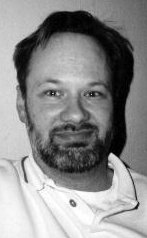 Gary Edward Schwichtenberg (also Swedenborg in Ár Päts, b. 15 July 1950) was a citizen of Talossa and of Maricopa province. He served as the seventeenth Prime Minister of the Kingdom.
Biography
Gary Schwichtenberg is a native and resident of Wisconsin who became Talossan in September of 1993 thanks to having religious interests (specifically in conservative Latter Day Saints) with Robert I. With a wife and son, he is one of several "middle-aged professionals" which Talossa has attracted over the years.
Tenure as Prime Minister
When Sir Ián Metáiriâ retired as Prime Minister on 26 March 1994, Distain Schwichtenberg was sworn in to fill his enormous shoes.
Most of Schwichtenberg's tenure as Prime Minister was occupied in prolonged feuds with Davron, the duo of Dave Kuenn and Ron Rosalez. In part in reaction to the machinations of Davron, Schwichtenberg's government enacted important campaign reform legislation.
Schwichtenberg gradually lost interest in running the country, and left office when the PC chose a new rising star, John McGarry, to serve as Prime Minister after the General Election of February, 1995.
Later days
Often functioning as an important swing voter, Schwichtenberg was generally supportive of the long-governing Progressive Conservatives until he broke with the party in 1998.
He continued to participate in elections, however, although some citizens speculated that his participation, which was always reported by Robert I, may have not been actual. As with many other such persons, being uncontactable by the Kingdom, Schwichtenberg's citizenship lapsed through three-strikes as soon as Robert I abdicated, finally being abandoned in July of 2006.
Offices