St. Brendan Sentinel
Jump to navigation
Jump to search
Editor / Publisher: Dieter N. Vercária
Established in 2008. Republic of Talossa.
Edited with open source software, published in PDF format
2008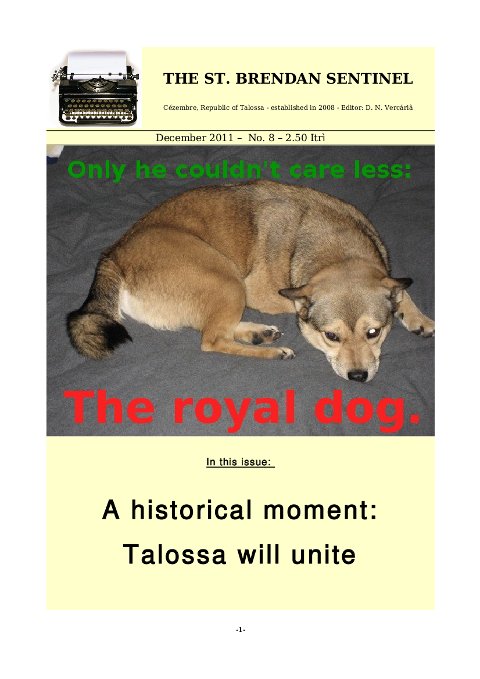 The St. Brendan Sentinel was supposed to become a Cézembrean newspaper focussed on provincial news. It was named after St. Brendan, the patron saint of the (Republican Talossan) province of Cézembre. But as there was nothing to report, the Editor was playing with various formats, from satire through silly to tabloid. The Sentinel was but one A4-sized sheet of paper. After three issues this project was layed to rest.
2010 / 2011
Around the Winter break The St. Brendan Sentinel was revived, this time as a "serious" (Republican Talossan) newspaper that consisted of more than but one sheet of paper. Again the project lost its momentum after three issues, a forth issue got roughly sketched but never completed.
2011 / 2012
In the wake of the surprising begin of reunion negotiations between the two Talossan states, The St. Brendan Sentinel started over for a third time, now as an illustrated newsmagazine with a catchy picture on the frontpage. After three issues it went on hiatus.
As the Republic of Talossa merged into a united Talossa in April 2012, the Editor / Publisher is now wondering what to do with The St. Brendan Sentinel. He announced that the hiatus of his newsmagazine will most probably not end before Ziuâ dal Naziun, 2012.
External link