User talk:Dien
Dropping Me a Line?
Make sure you sign it! (Type ~ 4 times) Dien (talk) 19:56, 19 July 2013 (EDT)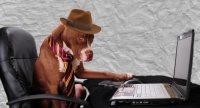 You have been awarded the

TalossaWiki Order of Merit
in recognition of your amazing bot and the redirects you've put in!

Keep up the good work!
Thanks...
...eh? ~ Sevastáin Pinátsch

02:10, 16 February 2014 (UTC)
Lawspace
I wonder if we could run a bot to move all of the statutes to the Law space, which would ensure that only scribes could edit them, allow for better searching, and make "random page" an actual useful thing. I implemented lawspace last year, but balked at the huge job of moving everything. Maybe you could help, if you have time?
Ideally, I want to move all the statutes and leave a redirect behind. Do you think we can do this, or foresee any problems?--AD (talk) 14:20, 26 February 2014 (UTC)
I probably could run the ScribeBot I have (which I actually set as a Scribe in foreseeing doing this xD) to move everything in the Statutes and Prime dictates categories to the Lawspace, provided that the laws are in the categories already. I'll look up what it'll take to code it, but I don't see it as being too hard. Dien (talk) 18:49, 26 February 2014 (UTC)

That would be great! Especially if it can leave a redirect behind. (That way we won't break any links). Thank you so much.--AD (talk) 19:02, 26 February 2014 (UTC)

Can you bump me up to a Scribe temporarily in case anything goes wrong with the bot? Dien (talk) 19:35, 26 February 2014 (UTC)

As an agent of the Scribery, and in keeping with the law, I hereby appoint you as a Assistant Scribe, specifically to assist in the task of sorting the laws in a more secure manner.--AD (talk) 19:39, 26 February 2014 (UTC)

Awesome! :D I do have a question: Would we rather have Category:Statutory law or Category:Statutes? Right now, Template:ScribeAuth includes Category:Statutory law on all pages, but I can change it to include Category:Statutes instead. Dien (talk) 22:06, 26 February 2014 (UTC)
No problem. :) Fixed the Statutes thing; just waiting on everything to "settle down" before I delete the Statutory Law category and clean up everything. The bot is working on double redirects right now and should be done momentarily; I might use it to clean up the category stuff if I need to, otherwise, when it's done I'll shut 'er down! xD Dien (talk) 01:24, 27 February 2014 (UTC)