Maritiimi-Maxhestic
Jump to navigation
Jump to search
Today is Maritiimi-Maxhestic Istuporaziua, a special holiday to celebrate the province of Maritiimi-Maxhestic! Wow!
La Provinçù da Maritiimi-Maxhestic, pronounced [lɐ provinˈsu ðɐ mɐɾiˈtimi mɐˈd͡ʒɛstik], in short Maritiimi-Maxhestic (IPA: [mɐɾiˈtimi mɐˈd͡ʒɛstik]), is a province of Talossa. Long one of the most active provinces, it has a dark past but a bright future, having turned a history of fractiousness and tyranny into a glorious march towards democracy and freedom. It is also one of the most attractive and cultured of provinces, with its vast lands comprising most of the nation's parkland and access to the Mar Talossan, as well as the Milwaukee Art Museum.
History
The fifth province is generally considered to have been created on September 30th, 1984/V, when its majority constituent province of Maritiimi was created in the Cantonization from the vast New Territories, a large area that had been annexed in the Edgewood Proclamation of 26 January 1983/IV. The new province of Maritiimi was named for its position along the coastline of the Mar Talossan, but actually consisted entirely of territory that is now part of present-day Vuode (Canton 76). Subsequent territorial shifts ceded this canton to Vuode while expanding the province vastly to the south, with the addition of Canton 109 (present-day Maritiimi Canton) during the creation of the Southwest Territories. During this era of the province's existence, it was either lawless or else governed by Danihel Lorentzescu (who seized control and attempted to secede from Talossa).
The nearby province of Port Maxhestic — briefly also known as Südlicher Großhaven — was also created in the 1985 Land Reforms, but became notable over the following years for being the personal domain of fractious local strongman Ian von Metairia, whose heritage and martial spirit gave the province its proud Germanic culture and flavor (as well as an amorphous and unknown capital, Jahnlähle). Metaira ruled with an iron fist for many years in Port Maxhestic, until his defeat in an election by Charmaine Cvala-Smith in 1991/XII. In outrage, he shifted to Maritiimi Province, and in response to his later clamoring, Port Maxhestic was combined with its larger neighbor of Maritiimi in another reorganization on 2 April 1993/XIV. Port Maxhestic lives on as Canton 153, and remains a substantial portion of the modern province.
Maritiimi-Maxhestic's final territorial alteration came during Reunision, when the province happily ceded a portion of this canton to help create the new province of Fiovă, receiving in compensation a substantial portion of Maricopan territory in return and yielding the new Villatx Freiric Canton.
In the years since, the citizens of Maritiimi-Maxhestic have become particularly known for their high level of activity in Talossa, as well as a general fascination with vowels. The tradition of Metairian fervency is continued in their gentle insistence that the provinces of Cézembre and Fiovă should rightfully be governed by Maritiimi-Maxhestic. The justifications given for this belief are alternately ludicrous and nonsensical.
Territory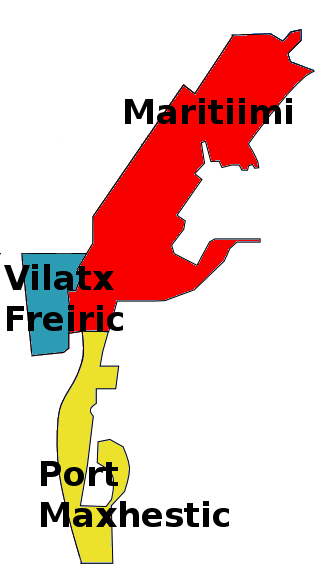 Maritiimi-Maxhestic is comprised of the three cantons of Maritiimi, Port Maxhestic, and Villatx Freiric (also known as Frédéricville).
Maritiimi
Milwaukee Art Museum - This museum, with more than 30,000 works of art and more than 400,000 visitors a year, is the premiere museum of the Greater Talossan Area. With more than 125 years of operation, its four floors and forty galleries feature a wonderful array of American, European, and Talossan works. Open Tuesday-Sunday 10am-5pm and Thursday until 8pm.
Villa Terrace Decorative Art Museum - Built in the style of an Italian Renaissance villa, this institution features a wonderful collection of decorative arts from the 15th to 18th centuries.
Charles Allis Art Museum - This museum's paintings and prints are housed in the Tudor mansion where the Allis family once resided.
Jewish Museum - Milwaukee's Jewish community has been central to the city's heritage for generations, and remain vital to modern Talossa. This museum showcases some of that history and the contributions of the Jewish Cestours.
War Memorial Center - This beautiful building serves as a resource center for American veterans, a memorial center with an eternal flame, and a museum of WW2 posters.
McKinley Marina - A public marina with multiple slips for rent, McKinley Marina is Talossa's most-trafficked gateway to the Mar Talossan.
Parks - Including Veteran's Park, Juneau Park, Back Bay Park, McKinley Park, and probably some other parks. Maritiimi has the greatest amount of parkland not only in Maritiimi-Maxhestic, but in all of Talossa.
Port Maxhestic
Harbor House - Part of the Bartoletta string of restaurants, the Harbor House serves some of the finest seafood meals in the country.
Discovery World - An aquarium, museum, and center for innovation, Discovery World hosts an extraordinary number of events and clever ways to learn about science.
Lakeshore State Park - Fishing, sports fields, and jogging paths provide a way for local citizens and Cestours to get some exercise and enjoy the outdoors.
Henry W. Maier Festival Park - Host of PrideFest, Polish Fest, Summerfest, Festa Italiana, German Fest, African World Festival, Irish Fest, Mexican Fiesta, and the Indian Summer Festival.
Marcus Amphitheatre - No venue on the planet hosts bigger names and bigger events than the Marcus Amphitheatre. Lady Gaga, the Dave Matthews Band, and Bruno Mars are just some of the recent shows here.
Seasonal LakeWalk - A well-maintained and beautiful walk along the Mar Talossan, the Seasonal LakeWalk is an exquisite stroll along the length of the province.
Villatx Freiric
Bacchus - One of the Bartoletta string of restaurants, Bacchus is fine dining at its best. Also available for private bookings.
David Barnett Gallery - The David Barnett Gallery represents more than 600 artists, including Picasso ceramics and Milton Avery oil paintings, as well as emerging Cestour artists.
Flag
The flag of Maritiimi-Maxhestic is described in vexillological terminology thus: "Per Scandinavian cross, 1 Per fess vert and gules, 2 and 3 Argent, 4 Tierced in pale gules, or, and azure; a Scandinavian cross sable fimbriated argent and refimbriated sable; overall at the center of the cross a plate fimbriated sable charged with an anchor sable festooned at its head with a ribband azure bearing the legend '8-1-93' sable."
This flag, which is deeply historic, contains a plenitude of symbolism designed to honor the heritage of this brave province. The central device, an anchor, comes from the first symbol adopted by Port Maxhestic when it was created out of the South Territory in 1985/VI. It is a reference to the seaport nature of the province. The banner upon it is the date of the absorption of Port Maxhestic into Maritiimi, on August 1st, 1993/XIV.
The Scandinavian cross and the overall layout of the flag evoke the War Ensign of the German Empire, and the War Ensign of the North German Confederation before that. This reflects the German heritage of many Milwaukeeans and many early Talossans - leading Maritiimi-Maxhestican Duke von Metairia, in particular.
In the upper left quadrant is an homage to the national flag. This also references the territorial status of Maritiimi - a status it arguably held for many years, even to such a point as to openly revolt and attempt to secede in 1986/VII. In the lower right, there is a reference to the colors of Maritiimi, originally taken from a long-defunct provincial arms from 1989/X but which now serve as colors for the whole province.
Governance
Maritiimi-Maxhestic has operated under a provincial constitution since May 12th, 2008/XXIX, when local voters approved it by referendum. Under this constitution, the province is governed by an Assembly of local representatives, selected by political parties according to their share of the vote. Elections are conducted by the national Chancery or by a specially selected local M3. Each term, or convocation, the Assembly passes statutes or amends the election law. The Assembly is headed by a Grand General Secretary (GGS), whose tasks are mostly ceremonial. Clerical work is performed by the Grand Specific Undersecretary (GSU), while the Maximally Magnificent Majordomo (M3) maintains the electoral database and conducts elections.